Website Design IN LEICESTER
Website Design is as much about the client as about the brief, making sure the client's website matches them is crucial in the website feeling authentic for a business of any size.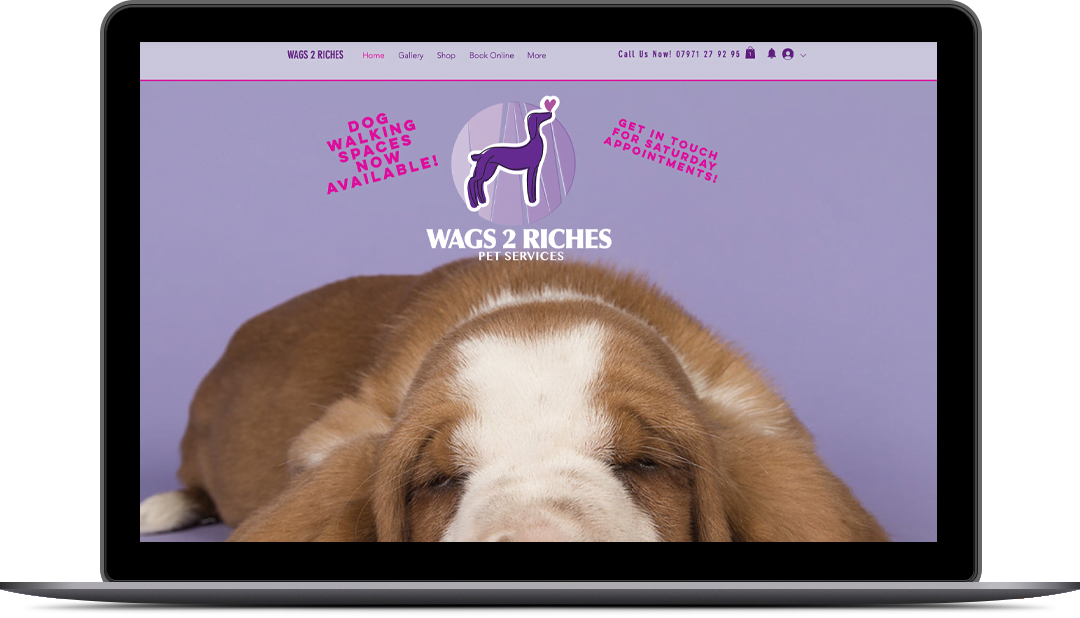 Website Design for Wags 2 Riches Pet Services 
Skills Needed:
Website Design with E-commerce and Booking systems 
Graphic Design for Logo, Advertising & Work Wear
The Clients
Wags 2 Riches Business
I was approached by the client to create a new brand and website for their dog walking and grooming business. They wanted a way for customers to be able to find the business online and see the services they offered. They also needed to book dog grooming online to allow customers to book direct.
The Brand
Wags 2 Riches
After getting to know the client I did some research on their competitors and fonts & colours that would work for the business and also for the clients. I chose colours that I felt were a reflection of the clients personalities but also that would stand the brand apart from other businesses in the same area.
I chose darker Purple and Pink for the dog grooming side of the business and Blues for the dog walking side of the business. From this I started work on different logos capturing the different aspects of the business. After 8 were completed I sent them off to the client for feedback and approval. The groomers eventually won out and the purple and pink were chosen.
When creating the website I stayed with these colours and created a website with information on the services offered, a booking system for dog grooming and an e-commerce shop for the customer to sell products creating another revenue stream. See https://www.wags2richespetservices.co.uk
"Working with Jane has been the easiest experience of design work I have ever had. Brilliant!"
Wags 2 Riches Pet Services